English Text see bottom part of this page.

Liebe Leser,
an dieser Stelle möchte ich Sie teilhaben lassen an meinen neusten Gedanken zu dem wichtigsten Thema der Welt: Was können wir noch tun, um sie vor dem Verfall durch Vermüllung, Resourcenausbeutung CO2 Verseuchung und, und, und zu bewahren. Nach dem Lesen des Buches "Das demokratische Weltparlament" von Jo Leinen und Andreas Bummel (Link zum Verlag, nicht zu Amazon) bin ich zu der festen Überzeugung gelangt, dass dies die einzige, gewaltfreie und vernünftige Lösung ist, die überhaupt noch – wenn es nicht längst zu spät ist – die Chance in sich trägt, zur Rettung der Welt beizutragen. Ich möchte auf dieser und den folgenden Seiten meine kurze Zusammenfassung geben und motivieren, "Influenzer" sein und alle Leser aufrufen, ebenfalls diese Idee zu unterstützen.
Links, auf denen Sie über diese Bewegung mehr nachlesen und diese unterstützen können:
Site von Andreas Bummel: UNPA campaign.
Internationale Site von Andreas Bummel: democracy without borders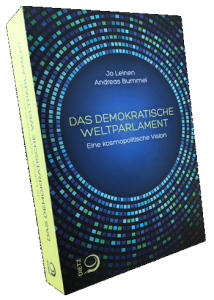 Zu dem Buch: Es ist ein ausgezeichnet recherchiertes Werk, in dem für mich als Politik- Laien die Sachlagen von allen Seiten ausführlich beleuchtet werden. Es ist nicht einfach zu lesen, da es fundierte Fachliteratur zum Thema darstellt. Beeindruckend sind (gefühlte) Tausende von Zitaten aus Veröffentlichungen und Büchern, die zu diesem Thema in den letzten Jahren entstanden sind. Ich kann nur jedem dringend empfehlen, der sich für diese Thematik interessiert, es zu lesen. Es verändert!
So kommen Sie auf meine Seiten (deutscher Text):
……
Dear readers,
at this point I would like to let you participate in my latest thoughts on the most important topic in the world: What can we still do to protect the world from decay by littering, resource exploitation, CO2 pollution etc.? After reading the book "A World Parliament"; by Jo Leinen and Andreas Bummel (link to Amazon) (I have read the germen version) I came to the firm conviction that this is the only non-violent and reasonable solution that still – if it is not too late – has the chance to contribute to saving the world. On the following pages I would like to give my short summary and motivate you to be an "influencer" and to call on all my readers to support this idea as well.
Links where you can read more about this movement and support it:
Site of Andreas Bummel: UNPA campaign.
International site of Andreas Bummel: democracy without borders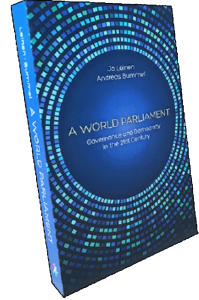 About the book: It is an excellently researched work, in which for me as a political layman the facts are examined in detail and from all sides. It is not easy to read, as it contains well-founded technical literature on the subject. I was impressed by (so it seems) thousands of quotations from publications and books, which had been published about this topic in the last years. I can only urge anyone who is interested in this subject to read it. It's changing!
This is how you can get to my pages (english text):